Why You Need to Try a SAMEBIKE Electric Fat Bike for Your Next Adventure
Apr 07,2023 | SAMEBIKE
Are you ready to take your outdoor adventures to the next level? Look no further than the SAMEBIKE electric fat bike. With its powerful motor and rugged design, this bike is perfect for exploring all terrain. Whether you're a seasoned cyclist or just looking for a fun new way to explore the outdoors, there's never been a better time to try an electric fat bike. In this post, we'll dive into why the SAMEBIKE should be at the top of your list when choosing your next adventure companion. So buckle up (or, instead, strap on your helmet) and prepare for an exciting ride!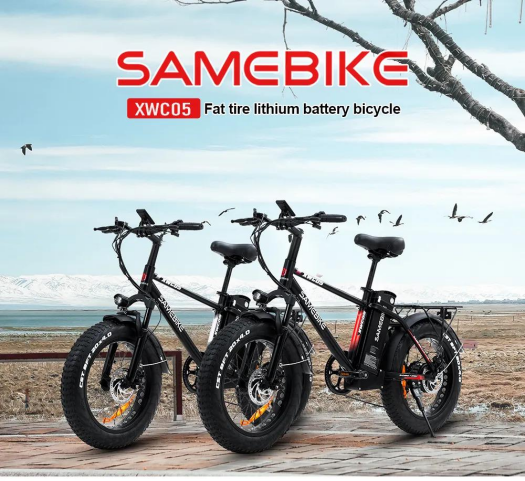 Introduction to SAMEBIKE Electric Fat Bikes
An electric fat bike is a mountain bike designed for riding on soft surfaces like snow or sand. Fat bikes have wide tires that provide extra traction and stability.
Benefits of Riding a SAMEBIKE Electric Fat Bike
Electric fat bikes are a great way to explore the outdoors, whether on snow, sand, or a regular dirt trail. They're also a great workout since you're pedaling a bike with extra weight (the battery). Here are some other benefits of electric fat bikes:
You can go places you usually couldn't with a regular bike.
They're low-impact and great for people with joint issues.
They build muscle and endurance.
They're fun!
Where to Ride Your SAMEBIKE Electric Fat Bike
There are endless possibilities for where to ride your SAMEBIKE electric fat bike. Here are just a few ideas to get you started:
On the beach - With its wide tires, your electric fat bike can easily handle sand and another uneven terrain. So why not take it for a spin on the beach? You'll be able to explore further than ever before and enjoy the scenery at a leisurely pace.
On the trail - There's Nothing like exploring nature on two wheels. And with your electric fat bike, you can go further and faster than you ever thought possible. So get out there and hit the trails!
Why choose a SAMEBIKE electric fat bike?
SAMEBIKE electric fat bikes are powerful and versatile, perfect for exploring off-road trails. With a SAMEBIKE motor, you'll get even more power to help you conquer any terrain. Plus, SAMEBIKE offers a variety of models to choose from, so you can find the perfect bike for your needs.
Conclusion
A SAMEBIKE electric fat bike is a great way to get out and explore the outdoors. Not only are they fast, reliable, and fun to ride, but they also come with all the features you need for a safe and enjoyable adventure. The motor provides an extra power boost while still allowing you to exercise, and the robust frame makes it perfect for tackling rough terrain. Whether you're looking for a new outdoor activity or want extra speed on your next biking trip, investing in a SAMEBIKE electric fat bike might be an excellent option!
Comment