What To Know Before Buying Electric Mountain Bikes
Aug 17,2022 | SAMEBIKE
While many people opt for electric mountain bikes to make their commutes easier and more comfortable, there are still many things to consider before purchasing. For example, in this blog post, learn about what are electric mountain bikes, their benefits, and how to ride them.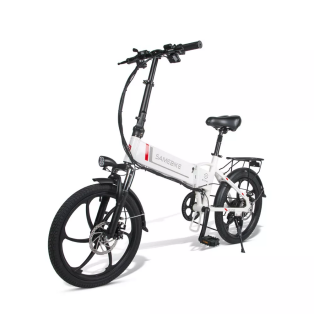 What are Electric Mountain Bikes?
Electric mountain bikes are a new breed of cycling that uses electric power to help you climb hills and get to your destination faster. These e-bikes are perfect for long rides and epic adventures and can even be used for commuting.
Are there any Benefits to an Electric Mountain Bike?
When shopping for an electric mountain bike, you may be wondering if there are any benefits to choosing one over an electric mountain bike. After all, electric mountain bikes are designed with motor assistance, which makes them more efficient and faster than traditional bikes. There are many reasons why an electric mountain bike might be a good choice for you, whether you're looking to reduce environmental impacts, improve your speed, or enjoy the convenience of an electric ride. Here are four reasons why electric mountain bikes could be a good choice for you:
Environmental Impact: An electric mountain bike is much more efficient than a traditional bike regarding energy use. This means that not only will you save money on your energy bill, but you'll also be helping to reduce environmental impacts related to transportation.
Shock absorber system: Four bar system with a full suspension fork will absorb even the harshest terrain and provide you with a level of ride comfort you never thought possible out there on the trail!
Convenience: An electric mountain bike is convenient and easy to use, making it perfect for commuting or long rides.
Range: Electric mountain bikes have longer ranges, making them perfect for long-range riding. You can always enjoy a longer trip that takes up to 30~60 miles on a single charge.
Factors to Consider when Purchasing An Electric Mountain Bike
If you're considering buying an electric mountain bike, there are a few things you need to know first. Here are three tips for getting started:
Choose the right kind of mountain bike. There are several types of electric mountain bikes, each with its features. Some are better suited for steep hills, while others are better for flat terrain. So it's important to choose the right type for your needs.
Consider Your Riding Style. When choosing an electric mountain bike, you must decide what type of riding you plan on doing most often. Speed bikes are best suited for short trips down the trail with little weight being carried, while endurance bikes are better suited for longer rides with heavier loads.
Install it by yourself. You need to install it yourself according to the guide. If any problems arise during installation, you can always contact SAMEBIKE.
Conclusion
Buying an electric mountain bike can be a great investment for your enjoyment and transportation needs. However, it's important to do your research before buying one to know what to look for and what to expect from the different types of electric mountain bikes on the market. Make sure you have a clear idea of what type of terrain you will be riding on, as well as your cycling skills and experience. Once you have these basics covered, it's time to start shopping!
Comment