Tips to Help You Choose The Right Ebike
Aug 17,2022 | SAMEBIKE
If you are thinking about buying an electric bike, there are a few things that you should think about before choosing one. First, here are four tips to help you choose the right e-bike for your needs.
Consider Your Needs
Your first step is to consider what kind of bike you want. There are three main types of e-bikes: commuter, recreational, and race.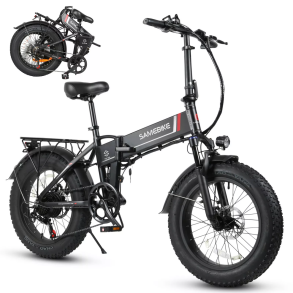 Commuter e-bikes are designed for people who need to travel between their house and company quickly. They are smaller and lighter than recreational or race e-bikes and usually have a lower price point.
Recreational e-bikes are for people who want to get exercise and have some fun. They are bigger and heavier than commuter e-bikes and usually have a higher price point.
Race e-bikes are different from traditional electric bikes in a few ways. For one, they have much higher speeds that allow them to cover more ground in a shorter amount of time. They also have wider tires that provide better traction and stability on the course. Because of these features, race e-bikes are becoming more and more popular among competitive cyclists.
Consider Your Budget
The second thing that you should think about is your budget. Don't be afraid to spend a little money on a good electric bike that will last a long.
Consider Your Right Size
Choose the right size e-bike for you. You don't want an e-bike that is too small or too large, as this will make it difficult to ride. The best way is to choose the test ride of SAMEBIKE.
Consider Your Riding Style
Once you know what type of e-bike you need and your budget, it is time to consider your riding style. For example, do you want a bike that is comfortable for long rides, or do you want something easy to transport? You can also choose a bike that has different types of gear if you want to try different types of exercises or rides.
Conclusion
If you're thinking about buying an e-bike, there are a few things you should consider before making your purchase. First, this guide will help you determine what features are important to you and which bikes will fit your needs. By following these tips, you'll be able to choose the right e-bike for your unique riding style and needs. Here we recommend browsing SAMEBIKE products.
Comment