The Top Tips For Buying The Perfect Electric Mountain Bike
Aug 17,2022 | SAMEBIKE
Are you looking for a new way of getting around town? If so, electric mountain bikes may be the perfect choice for you. Read on to find out how these tips will help you find the perfect bike for your needs!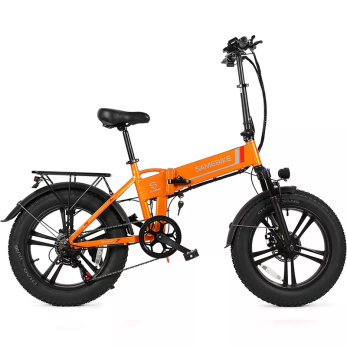 What is an electric mountain bike?
Electric mountain bikes are different than traditional mountain bikes in a few ways. For one, they use battery power to help you pedal. This means that you don't have to rely on pedaling with your feet the entire time. You can use the battery power to help you pedal up hills or when you are going accelerating.
Another difference between electric mountain bikes and traditional mountain bikes is the way they are designed. Electric mountain bikes are designed with a more upright position. This means that you will be able to ride them for longer distances without getting tired.
What are some common features of an electric mountain bike?
Some common features of an electric mountain bike include pedal assistance, suspension, and weight limits.
Pedal assistance is a feature that allows the rider to use the pedals to help power the ebike forward. Suspension helps to smooth out the ride by suspending the bike above the ground when it is in the air. Weight limits help to prevent the ebike from being too heavy for someone to safely ride.
All of these features make electric mountain bikes a great choice for those who want an easy and comfortable ride. They are also perfect for those who want to go hill climbing or on trails.
What other factors should I consider before buying a new ebike?
Before you buy your electric mountain bike, make sure to consider a few other factors. Here are some tips to get you started:
Determine Your Needs
The first step is to figure out what you need the ebike for. Do you want to ride it on paved or unpaved trails? Do you want a ebike that is designed for cruising or do you want something that is more suited for downhill biking? Once you know these details, you can start looking at different ebikes that fit your needs.
Consider The Size Of The Bike
After you have determined what type of trails you will be riding, it is important to take into account the size of the ebike. Electric mountain bikes come in a variety of sizes, from small children's bikes to large adult bikes. Make sure to find one that fits your body and your riding style before buying it.
Compare Specifications
Once you have selected an ebike, it is time to compare specifications. Look for ebikes with high-quality components and warranties that will last longer than average. Also, be sure to read reviews before making your purchase so that you can get an idea of what other riders think about the bike you are considering.
If you're looking for an exercise option that's both challenging and fun, an electric mountain bike is a great choice.
Comment