The Best Mini Electric Bikes To Get You Out Of The House
Nov 07,2022 | SAMEBIKE
The mini electric bicycle is a great way to get out of the house and feel like you are on vacation. Traveling in comfort is also convenient for those who do not have time, or can't afford, to go far away.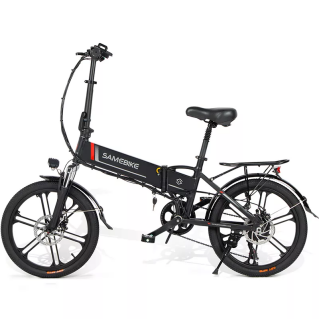 Why buy a mini electric bike?
There are plenty of reasons to buy a mini electric bike. They're perfect for short commutes, getting around town, or even just cruising around the neighborhood. And, they're a lot of fun to ride!
Here are some of the top reasons to buy a mini electric bike:
They're convenient and easy to use.
They're affordable.
They're easy to store and transport.
How does it work?
They work by utilizing a battery-powered motor to assist the rider. When you pedal an electric bike, the motor kicks in and provides help, making it easier to ride up hills or travel longer distances than you would on a traditional bicycle.
Electric bikes are perfect for people who want to get around without breaking a sweat, or for those who have difficulty pedaling a regular bike. If you have any questions about how an electric bike works, feel free to ask in the comments!
Which mini-electric bikes are the best?
Assuming you are looking for a mini electric bike to help with transportation, the SAMEBIKE is a great option. It has a max speed of 20 km/h and a range of up to 60 km. It also has a foldable frame which makes it easy to store and transport. Besides, it also has an adjustable seat which makes it comfortable for riders of all sizes.
The SAMEBIKE is a great option for mini electric bikes. They both have unique features that make them ideal for different purposes. Whether you are looking for transportation or recreation, either one of these options would be great for you.
Conclusion
We hope you enjoyed our list of the best mini-electric bikes to get you out of the house. If you're looking for a way to get around without using your car, an electric bike is a great option. They're environmentally friendly, they don't produce emissions, and they're a lot of fun to ride. Whether you choose a folding electric bike or a mini electric bike, we're sure you'll enjoy getting out and about on two wheels.
Comment