The Best Benefits Of Ebikes And Why Most People Should Buy One
Aug 17,2022 | SAMEBIKE
You might not be convinced to purchase an e-bike right now, but that doesn't mean you should ignore them and the amazing benefits they offer. Find out how they can improve your lifestyle in this article!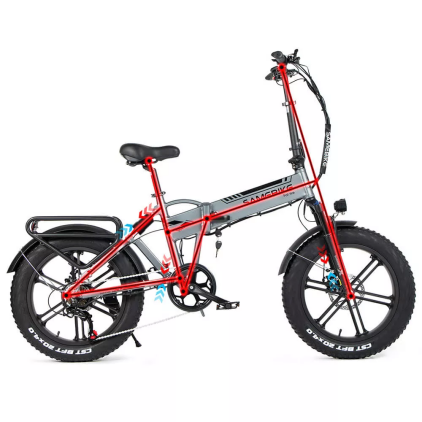 Why Should People Consider Ebikes?
One of the most popular reasons people choose ebikes is because of their multiple benefits. Ebikes offer a healthy alternative to traditional forms of transportation, and they provide an easy way to get around town. Here are some of the benefits of ebikes that make them a great choice for many people:
They Are More Efficient: Ebikes are much more efficient than regular bikes, meaning they can travel much further with the same amount of energy. Also, Ebikes are very efficient when it comes to getting you from point A to point B. This means that they can save you a lot of time if you need to get somewhere quickly.
They're environmentally friendly: Ebikes are a much more environmentally friendly option than cars or buses because they use little to no fuel. They can help reduce CO2 emissions, which is great news for the planet. They don't produce emissions, and they can help reduce traffic congestion.
They're economical: Ebikes are much more affordable than cars or buses. This makes them an affordable option for people who want to get around town without spending a lot of money.
They Are More Fun: Ebikes are a lot more fun to ride than regular bikes. They give you a sense of speed and power that you just don't get with other types of bikes.
Essential Features
When you're looking to buy an electric bike, there are a few features that you should look for. These features will depend on the kind of riding that you plan to do and the type of terrain that you'll be riding on. Here is a rundown of the essential features to look for when choosing an electric bike:
-Range: The range of an electric bike is important because it tells you how far you can travel before needing to charge it again. For commuting, a range of around 20 miles is ideal. For longer rides, you'll want at least a 30-60 mile range. You can always enjoy a longer trip that takes you up to 60 miles on a single charge with SAMEBIKE bikes.
-Speed: Another important feature to consider is the speed of the e-bike. You'll want something comfortable to ride at a pace that's comfortable for you.
-Controller: One feature that's becoming increasingly popular on electric bikes is the controller. This allows you to adjust the speed, braking, and other settings without having to take your hands off the ebike.
-Charging: When it comes to charging an electric bike, make sure that you have access to an outlet that's fit for use with this type of ebike. Many ebikes come with chargers that plug into a standard wall outlet.
Comment