The 350w Electric Bike Is A Lightweight, Quiet Urban Mobility Option
Sep 28,2022 | SAMEBIKE
This blog article is about 350w electric bikes, which are great for urban transportation and getting around easily. 350w electric bikes are a speedy and convenient way to get around without gasoline or petroleum-based fuels. With the introduction of an electric bike, people can choose between riding to work alone or riding with friends.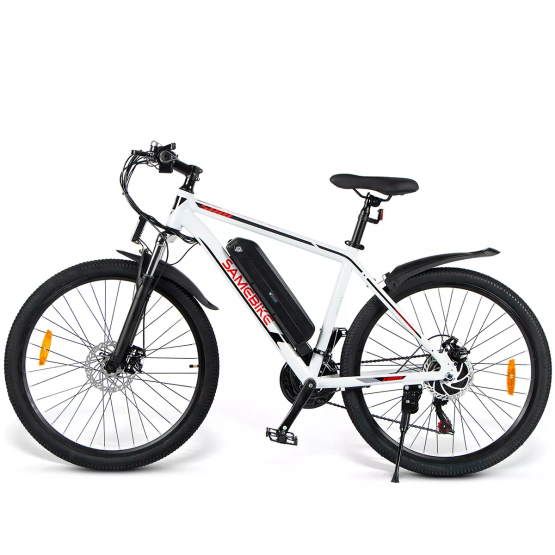 What is the 350w Electric Bike?
The 350w electric bike is a lightweight, quiet urban mobility option that offers great value. This electric bike has a range of up to 60 miles and can reach speeds of up to 30km. It also has a durable frame and car-grade battery to enjoy your city with an effortless ride anytime, anywhere.
How does the bike work?
The 350w electric bike operates on a permanent magnet synchronous high-speed motor with a brushless power system, an output of 50 torque, and strong power. Enjoy an effortless riding experience even at 15 degrees uphill. Explore your city with Reliable power and ultimate comfort.
With five levels of pedal assist, getting yourself anywhere on the folding electric bicycle can be as much of, or as easy, a workout as you want. If you need that little extra boost to get home or just want to enjoy the scenery, then the throttle function will power you along.
The 350w electric bike is a great choice for people who want to be environmentally conscious. Unfortunately, the bike doesn't produce emissions, so it's a good way to reduce your carbon footprint.
Where can you ride with the 350w Electric Bike?
The 350w electric bike is perfect for commuters and urbanites looking for an environmentally-friendly option. The bike is lightweight and quiet, making it a great choice for people who live in noisy cities.
The 350w electric bike also has a low center of gravity, which makes it very stable. You can ride this bike on hills or in congested areas without worrying about getting thrown off.
Conclusion
The 350w electric bike from SAMEBIKE is an exciting new option for urban mobility. Not only does it provide a lightweight and quiet solution for getting around town, but its battery can also be recharged fastly. This means that the 350w electric bike could eventually become the go-to choice for eco-conscious city dwellers looking to reduce their carbon footprint. You might even find yourself taking your 350w electric bike on long rides through beautiful countryside sometime in the future!
Comment