SAMEBIKE YY26 E-BIKE: A Fat Tire Snowbike For Your Winter Adventures
Dec 01,2022 | SAMEBIKE
There are few things that are better than riding a fat tire snowbike through the wilderness on a freezing day. This article was written to help you find out how the SAMEBIKE YY26 e-bike can be the perfect companion for your winter adventures.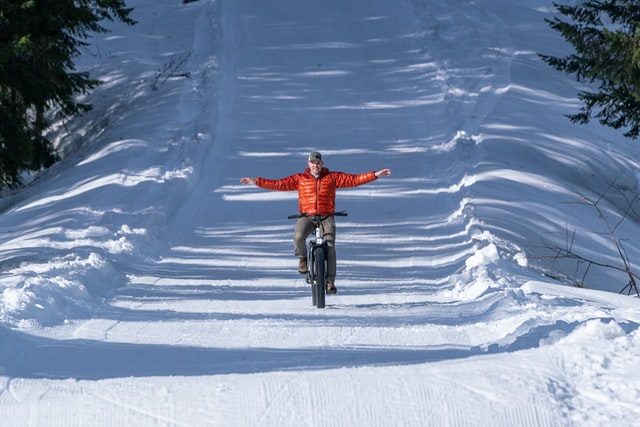 Why the SAMEBIKE YY26 is so great?
1. SAMEBIKE YY26 is a great way to get out and explore in the snow. They provide the same great riding experience as traditional mountain bikes, but with the added benefit of fat tires that can grip the snow better than standard tires. All-terrain tires provide better grip and traction in gravel, sand, and mud than a standard all-season tire. Whether you ride on-or off-road, it performs an important function for your riding experience.
2. SAMEBIKE YY26 is also perfect for commuting to work or school in the snow. Not only do they offer a great ride, but they're also relatively lightweight and easy to transport. With the Shimano 7-speed gear change mechanism, you have additional options while riding in various environments. The pedal-assist system is available, and you can choose any pace that works for your trip.
3. SAMEBIKE YY26 makes great recreational vehicles for exploring all sorts of snowy terrain. Whenever you use it, enjoy an effortless riding experience even at 40 degrees uphill. Whether you're looking for a challenging descent down a steep slope or just want to take a leisurely ride through the woods, this ebike is perfect for the job.
SAMEBIKE YY26: Features
SAMEBIKE YY26 is the perfect winter transportation solution for city dwellers. This e-bike comes equipped with fat tires to help grip in snowy conditions, and its powerful motor allows you to peddle at a brisk pace without breaking a sweat. Plus, the SAMEBIKE YY26 has an adjustable saddle and solid frame to make it comfortable for all riders. Whether you're taking public transit or commuting to work, the SAMEBIKE YY26 is the perfect choice for an easy ride.
Conclusion
If you're in the market for an e-bike that can handle all sorts of winter conditions, look no further than the SAMEBIKE YY26. This ebike is built to be able to take a beating, whether it's through deep snow or icy roads. Plus, its fat tires make it great for tackling any kind of terrain. So if you're looking for an ebike that will let you explore all sorts of winter destinations without having to worry about getting stuck, the SAMEBIKE YY26 is definitely worth considering.
Comment