SAMEBIKE Electric Bikes: The Future of Sustainable Transportation
Aug 01,2023 | SAMEBIKE
Introduction
Are you looking for an affordable and eco-friendly way to commute? SAMEBIKE electric bikes might be the perfect solution for you. As the world shifts towards sustainable transportation, electric bikes have become an increasingly popular choice for commuters. In this article, we will explore the benefits of SAMEBIKE electric bikes and why they are the future of sustainable transportation.
SAMEBIKE Electric Bikes: Features and Technology at an Affordable Price
Electric bikes have come a long way in recent years, and SAMEBIKE is at the forefront of this innovation. SAMEBIKE electric bikes are equipped with cutting-edge features and technology, such as powerful motors, long-lasting batteries, smart controls, and lightweight frames. What sets SAMEBIKE electric bikes apart is that they offer premium features at an affordable price compared to other electric bike brands. Whether you're looking for a foldable electric bike for easy storage or a mountain electric bike for off-road adventures, SAMEBIKE has a wide range of options to fit your budget and lifestyle. If you're curious about the SAMEBIKE electric bike price, you'll be pleasantly surprised by the value you get with SAMEBIKE.
Why SAMEBIKE Electric Bikes Are a Cost-Effective Solution for Commuting
Electric bikes are not only environmentally friendly, but they're also cost-effective. Compared to traditional modes of transportation like cars or public transit, electric bikes offer significant savings on fuel and maintenance costs. With SAMEBIKE electric bikes, you can enjoy an affordable and efficient way to commute without breaking the bank. The SAMEBIKE electric bike price is just the beginning of the cost savings you'll experience by choosing an electric bike for your daily commute.
How to Choose the Right SAMEBIKE Electric Bike at the Best Price
Choosing the right electric bike can be overwhelming, but SAMEBIKE makes it easy. When choosing a SAMEBIKE electric bike, consider factors such as your riding style, the terrain you'll be riding on, and the distance of your commute. SAMEBIKE offers a variety of electric bike models to fit different needs and preferences. Plus, you can find the best SAMEBIKE electric bike price by looking for promotions and discounts on their website or through their authorized dealers.
SAMEBIKE Electric Bikes: The Perfect Blend of Affordability and Quality
If you're looking for a high-quality electric bike without breaking the bank, SAMEBIKE is the perfect choice for you. SAMEBIKE electric bikes offer a balance of affordability and quality, making them a great value for the price. The brand prioritizes affordability without compromising on performance or features. When you choose SAMEBIKE, you can rest assured that you're getting a reliable and efficient electric bike that won't cost you an arm and a leg.
Conclusion
Electric bikes are the future of sustainable transportation, and SAMEBIKE is leading the charge towards a greener, more efficient world. By choosing a SAMEBIKE electric bike, you can enjoy cost savings, convenience, and environmental friendliness all in one package. With a wide range of models and SAMEBIKE electric bike price points, there's a SAMEBIKE electric bike for everyone. Join the movement towards a more sustainable future and choose SAMEBIKE electric bikes for your daily commute.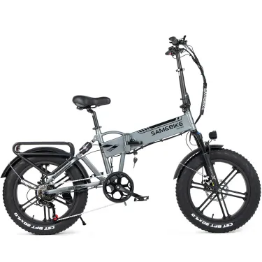 Comment