Ride up the Mountain with Ease: The Best Folding Electric Mountain Bike from SAMEBIKE
Apr 07,2023 | SAMEBIKE
Are you an avid mountain biker but dread the uphill climb? Do you want to conquer challenging terrain without breaking a sweat? Look no further, as SAMEBIKE has got your back! With its powerful motor, sturdy frame, and sleek design, this bike is perfect for novice and experienced riders. So gear up and get ready to ride up the mountain easily on SAMEBIKE's best folding electric mountain bike!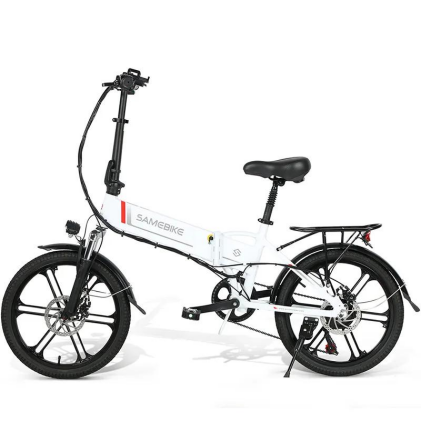 What is a folding electric mountain bike?
A folding electric mountain bike is a bicycle that can be folded for easy storage and transportation. These bikes are powered by an electric motor, making them ideal for riders who want extra help when climbing hills or riding long distances. Folding electric mountain bikes are also great for riders who live in small spaces, like apartments or RVs, because they can be easily stored away when not in use.
Benefits of a Folding Electric Mountain Bike
The SAMEBIKE folding electric mountain bike is the perfect choice for those who want to enjoy the great outdoors without all the hassle. This bike features a powerful motor that can easily take you up even the steepest hills and folds up quickly so you can take it on the go. Here are just a few of the many benefits of owning a SAMEBIKE folding electric mountain bike:
Enjoy the scenery: With an electric mountain bike, you can take in all the sights and sounds of nature without worrying about getting tired or out of breath. Just sit back and relax as you cruise up the trail.
Save time and energy: If you're short on time or energy, an electric mountain bike can help you make the most of your ride. There's no need to waste time pushing yourself up hills when you could be enjoying the view from the top.
Go at your own pace: Whether a beginner or an experienced cyclist, an electric mountain bike allows you to go at your own pace. If you want to take things easy, use less power and pedal slower. Or, if you're feeling adventurous, crank up the energy and fly up the trail!
Get off-road: Sticking to paved roads and trails with an electric mountain bike is unnecessary. You can explore more rugged terrain without fear of getting stuck or worn out.
Conclusion
If you're looking for a folding electric mountain bike that can help quickly take on any terrain, then the SAMEBIKE is worth considering. Its powerful motor and battery combination gives you plenty of power to tackle hills and mountains without sweat. It also folds up small enough to fit in most cars or apartments, making it ideal for anyone who wants an easy way to get around town or explore the great outdoors. So if you're ready to experience some serious fun, try the SAMEBIKE!
Comment