Revolutionizing Your Ride: The Best Electric Mountain Bikes for Sale
Apr 07,2023 | SAMEBIKE
Are you sick of the constraints imposed by conventional mountain bikes? Do you want to go on a ride like no other? SAMEBIKE's electric mountain bikes for sale are the answer. The way we traverse trails and scale mountains is changing due to these powerful machines.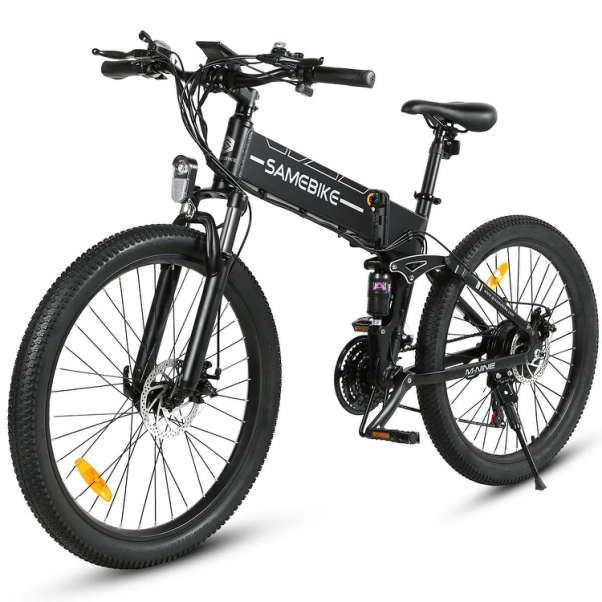 Introduction to Electric Mountain Bikes
Electric mountain bikes are revolutionizing the way we ride. With their powerful motors and large battery packs, they can take you places you never thought possible. Whether you're looking for a leisurely ride around the neighborhood or an adventure in the great outdoors, electric mountain bikes are the perfect way to get there.
Benefits of Riding an Electric Mountain Bike
Electric mountain bikes for sale offer several benefits over traditional mountain bikes. The most significant advantage is that they allow you to ride up hills and mountains you couldn't. Electric mountain bikes have a motor that assists you as you pedal, meaning you can conquer even the steepest terrain.
In addition to making it easier to ride up hills, electric mountain bikes also make it easier to ride for extended periods. You won't get as tired when riding an electric mountain bike since the motor will help remove some strain from your legs. Electric mountain bikes are perfect for those who want to enjoy longer rides without fatigue tired.
Finally, electric mountain bikes offer a more enjoyable riding experience overall. That is because they make it possible to go faster and further than you ever could on a traditional mountain bike. If you're looking for a truly exhilarating ride, an electric mountain bike is the way to go.
Features to Look for in an Electric Mountain Bike
When looking for an electric mountain bike, there are a few key features to remember:
You'll want a bike with a powerful motor to tackle steep hills and rough terrain without sweat.
You'll want a bike with good battery life, ensuring you can ride for hours without worrying about recharging.
You'll want a comfortable bike, which means finding one with a sound suspension system and padded seat.
With these features in mind, you'll find the perfect electric mountain bike.
Conclusion
Overall, electric mountain bikes have revolutionized the way we ride. They are great for getting around town quickly and provide an adrenaline-pumping experience that riders of all skill levels can enjoy. Whether you're a beginner looking to learn more about electric mountain biking or an avid rider looking for the best electric mountain bike on the market today, SAMEBIKE is sure to be something here that meets your needs. SAMEBIKE has been in business for over 19 years; during that time, we earned a reputation for quality and reliability. Our products are backed by a team of experts who are ready to assist you with any questions or concerns you may have。 We also offer a 100% satisfaction guarantee on all our products, so you can be confident that you're making the best decision for your needs.
Comment