My Experience with SAMEBIKE Electric Bikes
Jul 31,2023 | SAMEBIKE
Introduction
As an avid cyclist, I'm always on the lookout for new and innovative bikes that can enhance my riding experience. That's why I was intrigued when I first learned about SAMEBIKE electric bikes. These bikes promised to offer the perfect balance of power and convenience, and I was eager to put them to the test. In this article, I'll share my personal experience with SAMEBIKE electric bikes and explain why I believe they are a great choice for anyone who wants to enjoy the benefits of electric-assisted cycling.
Why I Chose SAMEBIKE Electric Bikes
The sheer number of options available when I first started looking into electric bikes overwhelmed me. However, after reading reviews and comparing features, I decided to go with SAMEBIKE. One of the main reasons I chose SAMEBIKE over other brands was the quality of their components. SAMEBIKE electric bikes use high-quality motors, batteries, and frames that are built to last. Additionally, SAMEBIKE offers a wide range of models to choose from, so I was able to find a bike that met my specific needs.
Features of SAMEBIKE Electric Bikes
One of the standout features of SAMEBIKE electric bikes is their powerful motor. With up to 500 watts of power, these bikes can tackle even the steepest hills with ease. Additionally, SAMEBIKE electric bikes come equipped with high-capacity batteries that can provide up to 80 miles of range on a single charge. This means that I can ride for hours without worrying about running out of power. Finally, SAMEBIKE electric bikes are designed to be both stylish and functional, with features like LCD displays, adjustable seats, and front and rear lights.
Riding Experience with SAMEBIKE Electric Bikes
After purchasing my SAMEBIKE electric bike, I was amazed at how smooth and effortless the riding experience was. The electric-assist motor provided just the right amount of power to make pedaling a breeze while still allowing me to get a great workout. Additionally, the bike's suspension system and comfortable seat made long rides much more enjoyable. Overall, I was extremely impressed with the quality of the ride offered by SAMEBIKE electric bikes.
Retail Availability of SAMEBIKE Electric Bikes
One thing to keep in mind when considering SAMEBIKE electric bikes is that they are mainly for retail but not wholesale. This means that they are not available through large distributors or resellers. However, SAMEBIKE does sell their bikes directly to consumers through their website and authorized dealers. This allows them to maintain a high level of quality control and ensure that every bike is built to their exacting standards.
Conclusion
After spending several weeks riding my SAMEBIKE electric bike, I can confidently say that it is one of the best purchases I have ever made. The combination of power, convenience, and style offered by SAMEBIKE electric bikes is truly unmatched. If you're looking for a high-quality electric bike that can help you tackle any terrain, I highly recommend giving SAMEBIKE a try.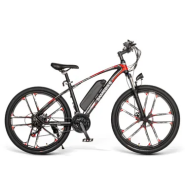 Comment