How The New Fat Tire Electric Bike Could Change Everything
Aug 17,2022 | SAMEBIKE
Regarding biking, one of the most important aspects is the tires. The better your tires' quality and more durable, the smoother your ride will be. This blog post will focus on the new fat tire electric bike. In this article, we'll discuss what fat tire electric bikes are, the benefits of those e-bikes, and how they could change everything.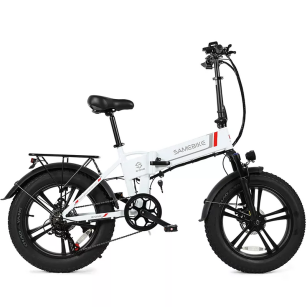 What is the Fat Tire Electric Bike?
The Fat Tire Electric Bike is a new kind of bike you can ride with no pedals. You instead use an electric motor to power the bike. This is different from traditional bikes where you pedal to move. With the Fat Tire Electric Bike, you can ride and enjoy the ride without having to worry about how to work the pedals. This could be a huge change for people trying to avoid using gas or oil.
Benefits of the Fat Tire Electric Bike
The Fat Tire electric bike is a new and innovative way to get around. Not only does it have the advantages of an electric bike, but it also has the benefits of a regular bike. It belongs to the type of mountain electric vehicle which can be used for expeditions. The Fat Tire electric bike is also unique in its fat tires, making it a very stable platform to ride on, making it perfect for those new to electric bikes or those not as confident on their regular bikes.
The Fat Tire electric bike from SAMEBIKE has several other features that make it a desirable option. For example, it has a shock absorber system. You can take your samebike anywhere with confidence! Four bar system with a suspension fork and stable 4" fat tire will absorb even the harshest terrain and provide you with a level of ride comfort you never thought possible out there on the trail! Additionally, the battery pack allows for extended runtime compared to other electric bikes.
How does it work?
Electric bikes are all the rage, and for a good reason. They're fun, efficient, and easy to use. But how do they work? Electric bikes use a long-range battery to help power the motor. This helps to make the bike more efficient and easier to ride. The battery can be recharged using a standard outlet, or you can use a battery pack that attaches to the bike. Furthermore, they are equipped with a backlit LCD, which can easily view important ride metrics such as speed, pedal assist level, battery capacity, distance traveled, and more.
Conclusion
The fat tire electric bike is one of the most exciting developments in cycling in a long time. This type of bike has the potential to change the way people commute, exercise, and explore. If you are interested, SAMEBIKE will provide you with all kinds of electric bikes empowering people to live a more fun and healthier life.
Comment