How Can Electric Bikes Change The Way You Ride?
Aug 17,2022 | SAMEBIKE
Electric bikes have been around for decades, but they are just now gaining popularity with the increasing number of cycling enthusiasts. One of the many benefits of the electric bike is that it can be quickly put together and ridden. With increased efficiency and easy assembly, electric bikes are taking the world by storm!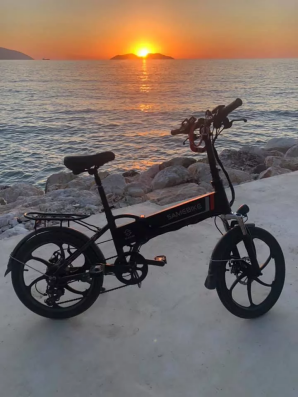 What is an electric bike?
Electric bikes are a subset of bicycles that use an electric motor to assist with movement. They are powered by a battery, which can be recharged via a power outlet. Electric bikes are a great option for commuting, running errands, or getting around town. They're also great for recreational riding, especially if you're looking to avoid the hassle of parking and finding a spot to bike. There are a lot of benefits to electric bikes, but one of the biggest is that they're environmentally friendly. Electric bikes don't require any gas or oil, so they're a good choice if you want to reduce your carbon footprint.
Benefits of an electric bike
Electric bikes offer many benefits over traditional bicycle models. They are more comfortable to ride, offer a smoother and quieter ride, and are much easier to get on and off of. They can also be used for transportation around town, which is great for short trips. There are many different types of electric bikes available on the market, so it is important to do your research before choosing one. Here are some of the benefits of using an electric bike:
1) They Are More Comfortable To Ride: Electric bikes are much more comfortable to ride than traditional bicycles. Instead, they offer a smoother and quieter ride that is ideal for people looking for an enjoyable way to get around town. Additionally, they can be used for transportation around town, which is great for short trips.
2) They're efficient: Electric bikes are much more time-saving than traditional bicycles and environmentally friendly than cars.
3)They're quiet: Electric bikes are among the least noisy vehicles on the road, making them a great choice for people who live in residential areas or want to avoid disturbing others while riding.
How to choose a right electric bike
Electric bikes have a lot of advantages over traditional bikes. They are cheaper to operate, easy to maintain, and much safer. If you want to ride an electric bike, there are a few things you need to consider. First, ensure you have a good quality electric bike that suits your needs. Second, make sure the battery is good and has enough power. Third, make sure the bike is comfortable for you. Fourth, make sure the bike has enough range. Fifth, make sure the bike is easy to ride. Sixth, make sure you buy an electric bike compatible with your needs and lifestyle.
Conclusion
Electric bikes have come a long way in recent years, and plenty of different models are available to choose from. So if you're thinking about buying an electric bike, this article should help you decide which one is right for you. Hopefully, after reading this article, you'll have a better idea of what to look for when shopping for an electric bike and will be able to make an informed decision as to which model is best suited for your needs. If you are interested, SAMEBIKE manufactures quality electric bike products at an affordable price for people around the world, which you can't miss!
Comment