Foldable Electric Bikes: A New Alternative For Commuting
Aug 17,2022 | SAMEBIKE
A foldable electric bike has many features that make it a viable alternative for commuting. It's lightweight, and easy to bring back to your apartment, making it an anti-theft. This blog post talks about the different features of these e-bikes that they can offer that might be attractive to people who have commutes.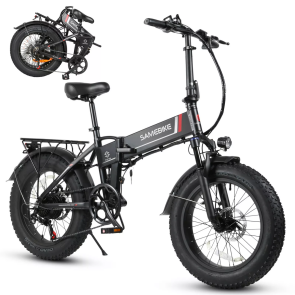 What is a Foldable Electric Bike?
Foldable electric bikes are a new alternative for commuting. They're powered by electricity and use a motor to help you pedal. They're great for short trips because you can enjoy a longer trip taking up to 30~60 miles on a single charge. You can even take them on the bus. You can even take them on the bus!
Electric bikes are a great option because they're environmentally friendly. You don't need to use gas or oil, and they're good for your health. They also help reduce pollution, because you don't need to rely on cars.
The Benefits of Using a Foldable Electric Bike
Electric bikes have many benefits that make them a great alternative for commuting. They are environmentally friendly, produce little to no noise, and can provide a healthy and sustainable workout. Here are some of the benefits of using a foldable electric bike for commuting:
-They are time-saving: Electric bikes rely on electricity rather than human, so it can save much time when riding an electric bike to go to work.
-They are convenient: The foldable electric bike does not need a bike rack; it can be folded up and stored anywhere ——in the office, car, stairs, or apartment when you don't need it. Therefore this feature makes it an anti-theft.
The Features of a SAMBIKE Foldable Electric Bike
BACKLIT LCD DISPLAY
Easily view important ride metrics such as speed, pedal assist level, battery capacity, distance traveled, and more.
LONG-RANGE BATTERY
Adopt 18650 high-performance car battery cell, Same battery,40% longer riding rang;48v 10Ah stable and strong output. You can always enjoy a longer trip that takes up to 30~60 miles on a single charge. More than 1000 charging cycles, Battery capacity is not less than 90% after 8 months, not less than 80% after 18 months. With overcharge and power off protection, It is globally insured by CPIC.
500W BRUSHLESS MOTOR
high-speed motor with a brushless power system, output 70 torque, and strong power. Power your life with a max speed of 25~35km/h; Enjoy a smooth riding experience even at 20 degrees uphill. It's perfect for a life on the go. Whether you are commuting to work, heading to the gym, or cruising to the coffee shop, It gets you there in style and speed.
SHOCK ABSORBER SYSTEM
Take your samebike anywhere with confidence! Four bar system with a full suspension fork will absorb even the harshest terrain and provide you with a level of ride comfort you never thought possible out there on the trail!
FOLDING E-BIKE
Take your e-bike anywhere, without the need for a bike rack. The electric folding bike will fold up and fit in your trunk. You can store it anywhere – in your office, under the stairs, or in your apartment.
In short, if you are interested, the Samebike Foldable Electric Bike should be a nice option for commuting, hiking, and even traveling.
Conclusion
If you're looking for an alternative to traditional commuting methods, consider investing in an electric bike. Not only are they environmentally friendly, but they also empower people to live a more fun and healthier life. Make sure to do your research before purchasing one so that you find the best model for your needs and enjoy the benefits of riding an electric bike!
Comment