Exploring the Excitement and Versatility of SAMEBIKE E-Bikes for Retail Customers
Jul 31,2023 | SAMEBIKE
Introduction
As an enthusiastic cyclist and a proud owner of
SAMEBIKE
e-bike
s, I have experienced the exhilaration and versatility that these electric bikes offer. In this article, I will share my personal journey and delve into the excitement, power, and reliability that SAMEBIKE
e-bike
s bring to retail customers. Whether you're a city commuter or an adventurous trailblazer, SAMEBIKE has designed their e-bikes to meet your needs and elevate your riding experience.
The Dynamic Power of SAMEBIKE E-Bikes
SAMEBIKE e-bikes are engineered to deliver exceptional power and performance. With their advanced electric motor systems and high-quality components, these e-bikes provide a thrilling riding experience. From swift acceleration to seamless hill climbing, SAMEBIKE e-bikes empower riders to go beyond limits and explore new horizons.
Retail-Focused Approach: Elevating the Customer Experience
Unlike brands that primarily focus on wholesale markets, SAMEBIKE takes pride in its retail-focused approach. They prioritize customer satisfaction and ensure that every retail customer receives personalized assistance and support. From expert guidance in selecting the perfect e-bike to reliable after-sales service, SAMEBIKE goes the extra mile to elevate the customer experience.
Discovering the Versatility of SAMEBIKE E-Bike Models
SAMEBIKE offers a diverse range of e-bike models, catering to various riding preferences and terrains. Whether you're seeking a sleek city cruiser for your daily commute or a rugged mountain explorer for off-road adventures, SAMEBIKE has the perfect e-bike for you. Explore their collection and find the e-bike that matches your style and requirements.
SAMEBIKE's Commitment to Eco-Friendly Transportation
SAMEBIKE understands the importance of sustainable mobility. By choosing SAMEBIKE e-bikes, you actively contribute to reducing carbon emissions and promoting a greener future. With their eco-friendly design and efficient electric motor systems, SAMEBIKE e-bikes are a responsible choice for commuters and nature enthusiasts alike.
Conclusion
Elevate Your Riding Experience: Choose SAMEBIKE for Unmatched Quality and Retail Excellence In conclusion, SAMEBIKE e-bikes offer an exciting and versatile option for retail customers. With their dynamic power, retail-focused approach, versatile models, and commitment to sustainability, SAMEBIKE has established itself as a leading brand in the e-bike industry. Embrace the joy and freedom of SAMEBIKE e-bikes and elevate your riding experience today.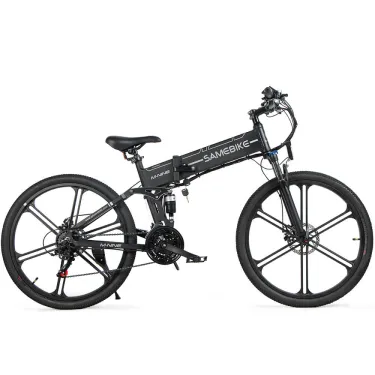 Comment