Electric Bikes Explained: Everything You Need To Know
Aug 17,2022 | SAMEBIKE
Electric bikes have become one of the biggest and hottest trends in the bicycle industry. With these innovative vehicles, you can get an excellent workout with many great perks! If you are wondering more about an electric bike, this blog is for you.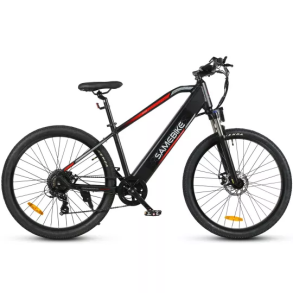 What are electric bikes?
Electric bikes are becoming more popular than ever, but what is an electric bike? An electric bike is a bicycle that uses electricity as its primary source of propulsion. It's also great for people who don't have a lot of time to spend commuting, as they can use them to get around town faster.
How do they work?
Electric bikes are becoming more popular, with many people looking to switch from traditional bicycles to a more convenient form of transport. The basic principle behind an electric bike is simple: a battery pack (or batteries) powers the motors, which help the bike move. There are also different types of motors available on electric bikes, with some models offering more power than others.
The advantages of electric bikes
There are a lot of reasons why electric bikes are becoming increasingly popular, and the advantages of using them over regular cars abound. Here are just a few of the major benefits:
The environment – electric bikes produce zero emissions, so they're good for the environment.
The cost – electric bikes are cost-effective, which makes them an attractive option for people on a budget.
The convenience – electric bikes allow you to ride without dealing with the hassle and exertion of pedaling. You can press a button and go.
Conclusion
If you're looking for a way to get around town without dealing with the hassle and expense of owning a car, an electric bike from SAMEBIKE might be the perfect solution. Here is everything you need to know about electric bikes before purchasing. So whether you're planning your first trip or looking for a new way to get around town, read on for all the information you need about electric bikes!
Comment