Electric Bikes: Best Option for City Riders
Sep 29,2022 | SAMEBIKE
Electric mountain bikes are a great option for city riders who want to get around without worrying about traffic jams. The quality of these bikes is excellent, and they're easy to navigate through busy urban areas.SAMEBIKE provides all kinds of electric bikes for sale. If you are interested, read on!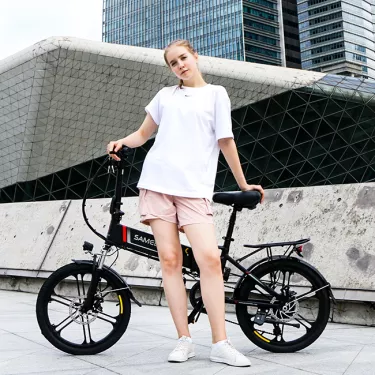 Benefits of an Electric Bike
The advantages of owning an electric bike over a conventional one are numerous. Electric bikes are quite eco-friendly, to begin with. They are an excellent solution for people looking to lessen their carbon footprint because they don't use any gas or oil to operate.
You have a lot of options when it comes to where you can ride an electric bike. For instance, you can ride them on parks, trails, or city streets. You may even attempt riding an electric bike on a public road if daring!
The ride with electric bikes is also quite simple. Electric bikes are made for novices, unlike traditional bikes, which demand great ability and coordination. So you won't have any trouble riding an electric bike if you have a basic understanding of operating one.
Finally, compared to traditional bikes, electric bikes are significantly safer. Because they lack pedals and a chain, they are significantly less likely to be involved in car accidents. Consequently, numerous studies have demonstrated that electric bikes are safer than conventional bikes.
The Best E-Bikes on the Market
SAMEBIKE is a professional electric bike manufacturer. Their electric bikes are a great option for city riders. They are lightweight, easy to ride, and have a low center of gravity that makes them easy to maneuver. Additionally, they have powerful motors that make them great for climbing hills. They also have battery packs that allow you to ride for a long time without stopping to recharge.
How to Care For Your E-Bike
Electric bikes are perfect for city riders. Here's how to care for your e-bike, so it lasts as long as possible:
Clean and Lube the Chain: Clean and lubricate the chain every few rides with light oil or grease. This will help keep the chain from wearing down and make riding more enjoyable.
Keep the Frame Clean: Keep the frame clean by occasionally wiping it down with a cloth. This will help prevent dirt and dust from building up and causing damage to the bike's components.
Check the Battery: Wipe down the battery every time you ride to remove any residual moisture or condensation. This will help ensure that the battery remains healthy and operable.
Inspect the Wheels: inspect the wheels for cracks, dents, or wear every time you ride to ensure that they remain in good condition. If they start to show signs of wear, replace them immediately.
Conclusion
For city riders, an electric bike is a great option. They are lightweight and easy to ride, making them perfect for navigating the crowded streets of big cities. Additionally, they have powerful motors that make uphill climbs much easier than on a traditional bike. So if you're looking for an efficient and environmentally friendly way to go out, an electric bike from SAMEBIKE may be the best.
Comment