A 20-Inch Electric Bike Just Changed My Life
Sep 28,2022 | SAMEBIKE
With a 20-inch electric bike, you'll be able to go from place to place whenever you feel like riding. This means that if you're looking for a new place to live far from your current location, this electric bike will allow you to ride more than 20 miles on just one charge!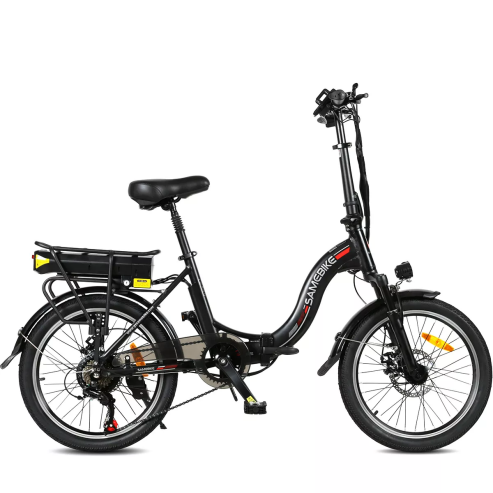 Benefits of the 20-Inch Electric Bike
The 20 Inch Electric Bike is a great option for people looking for an easy way to get around. It is lightweight and easy to ride, making it perfect for people new to electric bikes.
The 20 Inch Electric Bike also has a lot of benefits over traditional bikes. For example, it can save your space. It easily folds in 3 steps in seconds – folds the frame and the stern. You can store it anywhere – in your office, under the stairs, or in your apartment. You can take it with you anywhere: up and down the stairs, in the trunk of your car, on the bus, or the train.
In addition, it also can expand your trip. Adopt 18650 high-performance car battery cell, Same battery,40% longer riding rang;48v 10Ah stable and strong output. You can always enjoy a longer trip that takes up to 30~60 miles on a single charge. With overcharge and power off protection, It is globally insured by CPIC.
Overall, the 20 Inch Electric Bike is a great option for anyone looking for an easy way to get around. It is perfect for people who want an alternative transportation option that is quiet and easy to use.
How to Choose a 20-Inch Electric Bike?
Choosing the right electric bike can be overwhelming. There are so many different models and sizes to choose from! Here are some tips to help you decide which 20-inch electric bike is right for you:
Decide what type of riding you plan on doing. For example, are you looking for a leisurely ride, or do you want something that can help you commute?
Wheel size: You'll want to choose a wheel size appropriate for your riding style and terrain. Large wheel size will provide more stability and traction on flat ground, while a small wheel size will be better for downhill riding.
Battery type: Most 20-inch electric bikes come with battery types that include lithium-ion batteries. Lithium-ion batteries are lightweight and durable, making them a great choice for long-term use.
Range: The range of a 20-inch electric bike will depend on the type of battery that it uses. Some models have ranges of up to 25 miles, while others have ranges of up to 30 miles.
Compare prices and features: Use online reviews to help find the best deals on electric bikes. Remember that cheaper models may not have the same features as more expensive models.
Conclusion
This 20-inch electric bike allows me to travel anywhere in the city and even into the suburbs. Best of all, because the bike is electric, it makes traveling at high speeds much easier and more comfortable than traditional bikes. So if you want to improve your mobility and reduce your environmental impact, a 27-inch electric bike from SAMEBIKE might be the perfect solution for you.
Comment