5 Reasons You Need A Foldable Electric Bike
Aug 17,2022 | SAMEBIKE
We love to travel in style and comfort. So this is why there's such a need for the foldable electric bike!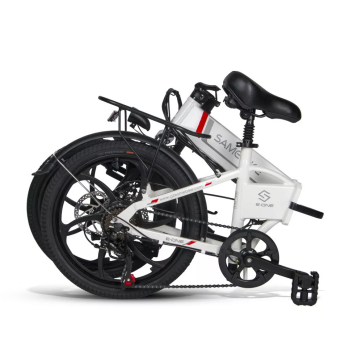 The best features of this bike
There are a lot of great reasons to buy an electric bike. They're environmentally friendly, incredibly fun to ride, and offer many benefits you don't get with traditional bikes.
One of the great features of folding electric bikes is that they're foldable. This allows them to be stored easily and transported anywhere you want. You can even take them to your office or under the stairs if you need to.
Electric bikes also offer a lot of comfort and convenience when riding. They have suspension systems that make them smooth and comfortable to ride on all types of terrain. And they come with lights and a horn, so you can be safe and get where you need to go safely at all times.
How does it work
A foldable electric bike is a great alternative to gas-powered bikes. You can fold them up and take them with you wherever you go.
A folding electric bike is a type of electric bike that you can fold up and store when you're not using it. This makes it perfect for people who live in small apartments or don't have much space to store their bikes.
A great benefit of folding electric bikes is that they're easier to ride than regular electric bikes. They have a long-range battery and are designed for longer distances. You can always enjoy a longer trip that takes up to 30~60 miles on a single charge. Therefore, It's perfect for a life on the go; whether you are commuting to work, heading to the gym, or cruising to the coffee shop, It gets you there in style and speed.
So if you're looking for an easy way to get around, a folding electric bike is the perfect option you can't miss.
5 Reasons Why You Need A Foldable Electric Bike
You might want to consider buying a foldable electric bike for many reasons. Here are five of the most common reasons:
Reduced Traffic Congestion
With foldable electric bikes, you can easily commute to work or school without worrying about traffic congestion.
Reduced Environmental Impact
Folding electric bikes reduce the environmental impact, as they require less energy to operate than traditional bicycles.
Use It Anywhere
If you live in an area that is difficult to get to by car, a foldable electric bike can be a great option for you.
Keep It In Your House
A foldable electric bike can be kept in your home rather than having to store it outside. This allows easy access to it when you need it and reduces the amount of clutter in your house.
Save Time On Your Commute
If you live in an area that has bad traffic congestion, a foldable electric bike can be a great option for you. You can avoid traffic by riding your foldable electric bike instead of driving your regular car.
Conclusion
You might need a foldable electric bike for countless reasons, and we've outlined just a few of them in this article. From commuting to getting around on weekend camping, a foldable electric bike can help make your life easier and more enjoyable. So if you're looking for an environmentally-friendly way to get around town or simply want something fun and challenging to exercise with, give a foldable electric bike from SAMEBIKE a try.
Comment