4 Reasons Why You Might Want To Upgrade Your Bike To An Electric One
Aug 17,2022 | SAMEBIKE
Perhaps you have always thought about switching to an electric bike, or maybe you are curious about the new trends in the industry. This blog article will explain why those who already use electric bikes think they're worth it! So if you're thinking of making the switch and want to know more, this blog is for you. This article will tell you three reasons to consider upgrading your bike to an electric one so it's more comfortable and convenient for you.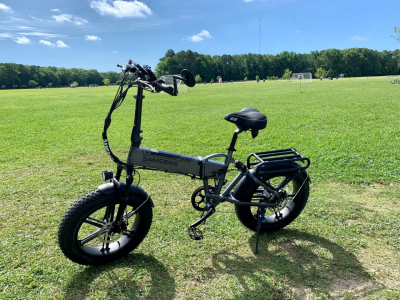 Benefits of Electric Bikes
Here are some of the reasons why upgrading to an electric bike might be a good idea:
1) Electric bikes are eco-friendly. They don't produce emissions, which means they're good for the environment.
2) Electric bikes are more comfortable than traditional bikes, and many people find that electric bikes are much more comfortable than traditional bikes.
3) Electric bikes are faster than traditional bikes. It can power your life with a max speed of 25~35km/h; Enjoy a smooth riding experience even at 20 degrees uphill. It's perfect for a life on the go; whether you are commuting to work, heading to the gym, or cruising to the coffee shop, It gets you there in style and speed.
4) Electric bikes are easy to store. You can take your e-bike anywhere without the need for a bike rack. The electric folding bike will fold up and fit in your trunk. You can store it anywhere – in your office, under the stairs, or in your apartment.
Types of Electric Bikes
Electric bikes come in many different types, each with its features. Here are two of the most common types of electric bikes:
Mountain e-bikes are the most popular type of electric bike because they are versatile and can be used for various purposes. They are great for commuting, leisure riders, and off-road activities.
Road e-bikes are perfect for commuting or recreational use. They are lightweight and have wider tires that provide good stability on the road. They also have gears that allow them to ride at a faster speed than mountain bikes.
Things to Consider Before Purchasing an Electric Bike
When you are looking to buy an e-bike, there are a few things to keep in mind. First, consider the type of e-bike that you want. There are electric bikes for commuting, mountain biking, and even riding around the neighborhood.
Next, think about your budget. Some electric bikes cost as much as $2,000, but others are cheaper. You also have a choice of cost-effective electric bikes like SMAEBIKE.
Finally, think about your needs. For example, an electric bike may be the perfect choice if you want to use your bike for longer distances or explore more challenging terrain.
Conclusion
If you're like most people, you probably rely on your bike to get around town. But if you're looking to make your ride even more environmentally friendly, faster, and further, why not consider upgrading to an electric bike? Not only are they much less polluting than their gasoline-powered counterparts, but they also offer a host of other benefits, such as greater range and faster speeds. So if you're interested in making the switch to an electric bike, be sure to buy an electric bike from SAMEBIKE!
Comment