What You Need To Know About SAMEBIKE BLACK FRIDAY
Nov 01,2022 | SAMEBIKE
For many people, Black Friday is one of the busiest days of the year. It's a day when you can find deals on some of your favorite things, like shoes, games, and clothes. But for shoppers who are looking for a little something different this year, it's a chance to find great deals on e-bikes from SAMEBIKE.
Let's take a look at SAMEBIKE Black Friday Sales for you.

Five SAMEBIKE E-Bike Promotions with Amazing Discounts
Sitewide 6% off
From Oct. 26 to Nov. 6, get 6% off sitewide with discount code HalloSamebike. That's the best price you'll find on any of our bikes, including our most popular models like 20LVXD30, LO26, LO26 II 750W, etc.
Folding E-bikes extra $60 off
From Nov. 7 to Nov. 11, we've got some great deals for you to buy folding e-bikes such as 20LVXD30, 20LVXD30-II, JG20. SAMEBIKE folding e-bikes are perfect for commuting and outdoor biking, making them ideal options for those who have limited space in their home or office. Folding e-bikes are also easily portable-you can take them with you just about anywhere: on long journeys, over long distances(within reason), and even indoors!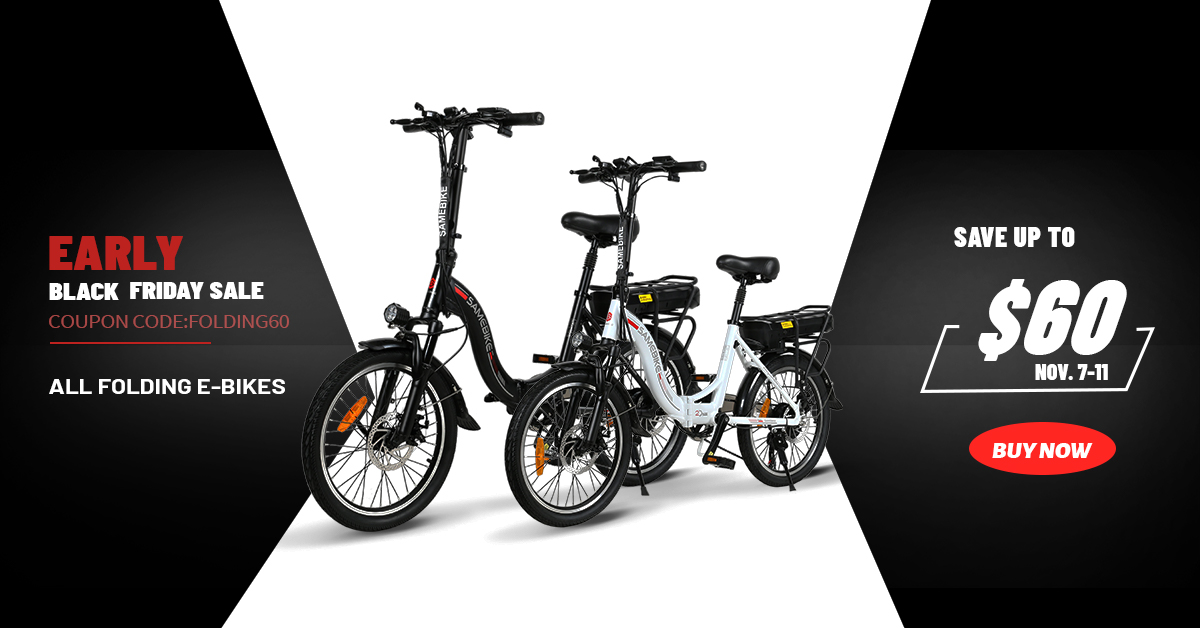 Electric mountain bikes extra $60 off
The best way to get around on mountain terrain is with an electric mountain bike. Save up to $60 to get SAMEBIKE electric mountain bikes from Nov. 14-18! These bikes are not only versatile, but also powerful and reliable, so you can tackle any trail or road that comes your way. Electric mountain bikes are great for commuting too. You can use them to get from home to work faster than ever before! Whether you need to make it up a steep hill on your commute or just want to save time riding through traffic, an electric mountain bike will get you there in no time at all.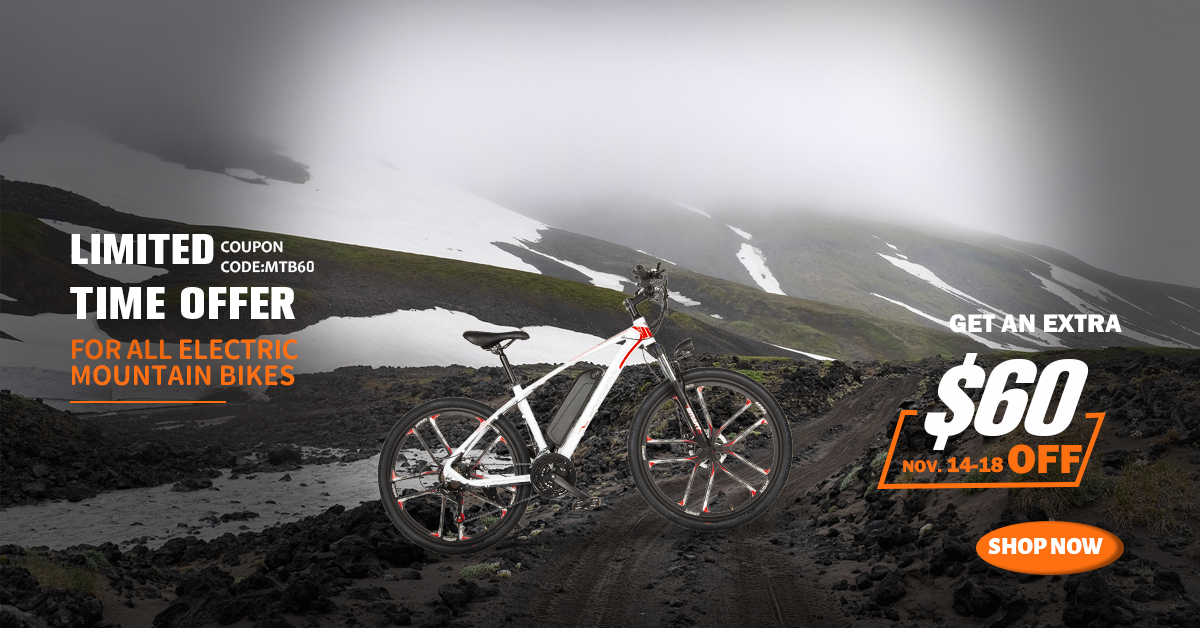 Fat tire E-bikes extra $60 off
When it comes to fat tire e-bikes, it's of importance to mention our SAMEBIKE XWXL09 750W fat tire e-bike. With 20''X4.0'' fat tires designed for low ground pressure to absorb all the bumps in your path, you can enjoy the scenery at a steady pace, whether riding on soft, unstable terrains like snow, sand, bog, or mud. By the way, remember to use $60 discount before taking your beloved bike home.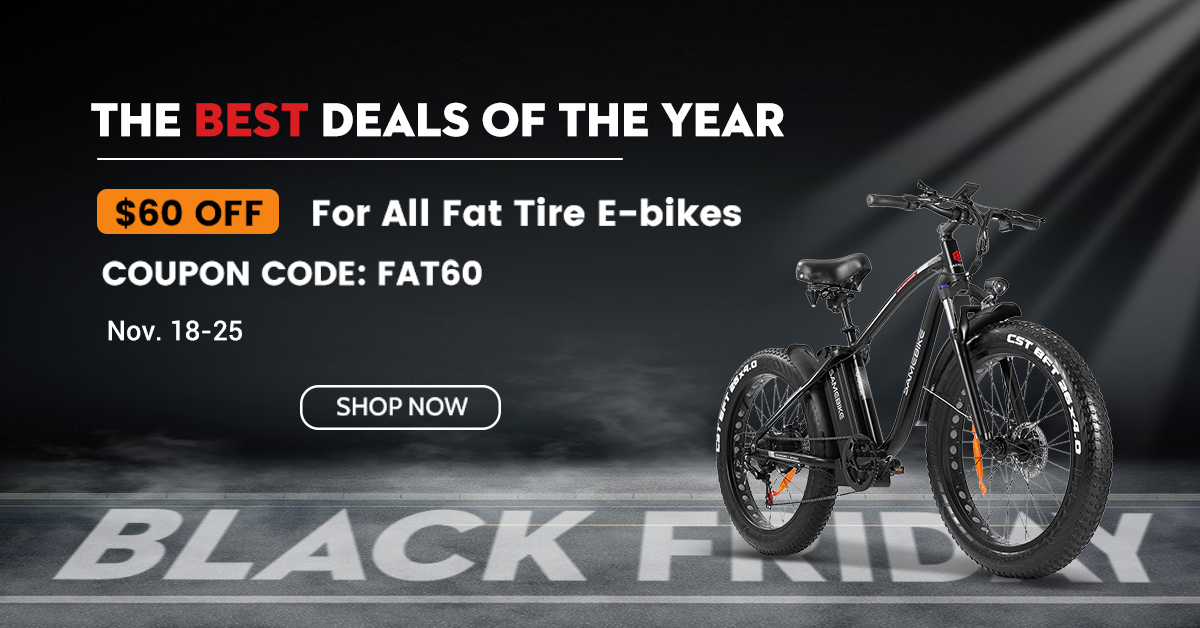 Buy two get 10% off
Imagine riding with your lover along the seaside, enjoying the comfort wind and relaxing, it brings you more fun when you buy two bikes and ride with someone you trust. Starting Nov. 25 to 30, you can save on your next bike purchase by buying 2 bikes and getting 10% off on the second bike.
Four Reasons Why Choose SAMEBIKE on Black Friday
The fact is, you can find a lot of cheap e-bikes on the market. But many of them are not good in quality, so why not pick us? Here are four reasons why you should choose SAMEBIKE:
Super affordable price
We offer up to $60 discount and limited beautiful giveaways during our Black Friday Sale. Taking your e-bike home with the lowest budget.
Free shipping within 7 days
All orders are sent out within 24 hours after payment has been confirmed and it takes about 5-7 working days for delivery.
18-year rich experience in manufacturing
We have a professional and quality control system. Each part of the SAMEBIKE e-Bike is carefully chosen and inspected at each process. The dedication to making high quality, long lasting electric bikes ensures that you will be riding with happiness for a long time.
Professional expert advice
Choosing a bike is not an easy task. First of all, you have to take into account many factors, one of the most important ones being your budget. However, just because you have a limited amount of money at your disposal doesn't mean that you have to settle for a cheaper model that doesn't meet your needs and wishes. Luckily, we offer professional expert advice on our website!
Buy SAMEBIKE on Black Friday and Get the Best Price
If you're looking to purchase a bike on Black Friday, then don't miss out on the SAMEBIKE Black Friday sale. It's worth getting the perfect e-bike for commuting and outdoor fun at the lowest price. We're ready to service you.
Comment