What Makes the SAMEBIKE MIX10 Electric City Bike a Cool Masterpiece?
Oct 30,2022 | SAMEBIKE
Fashion trendsetters are those who never compromise on the expression of their own attitude toward life. You can intuit what they want to show by glancing at their items, from clothing to the electric bike they are riding. To help them show their characteristics, SAMEBIKE has designed a series of cool electric city bikes – the MIX10 series. As this series launches its electric bike crowdfunding program, it is warmly welcomed by a large group of people who support this program at once. But how come? Read on to find the answer below!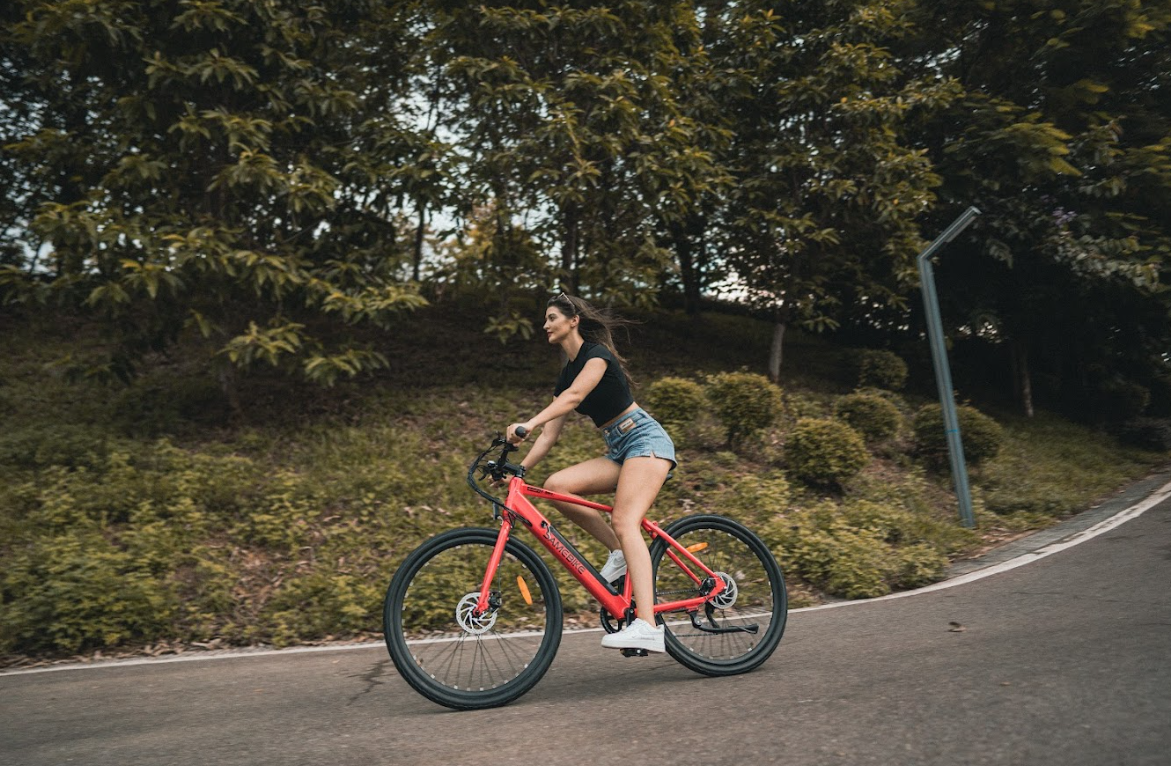 The Brilliant Electric Bicycle SAMEBIKE MIX10: Cooler Than Ever
6 frame colors
Colors are the best way to express emotions and characteristics. SAMEBIKE MIX10 offers you a choice of colorful electric city bikes. There are six frame colors: flaming red, vivid green, calm blue, minimalist grey, elite white, and prestigious black. Choose the color you like!
Taillight
When riding the SAMEBIKE MIX10 with your friends in the evening, you will get both safe and attention. The taillight on the back can glow at night as a warning sign. Also, the red light has high penetrability in foggy environments, allowing the other drivers to keep a safe distance from you.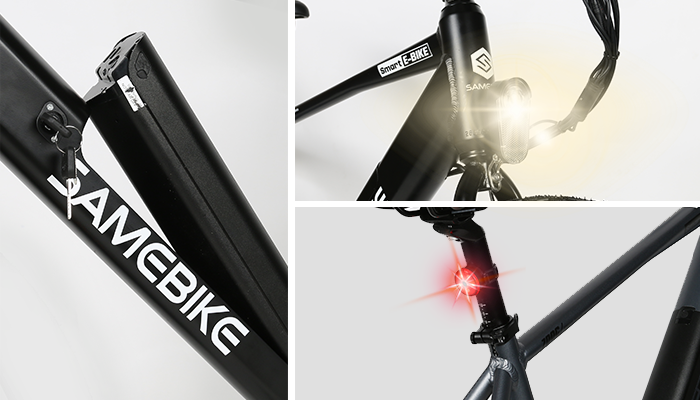 SAMEBIKE APP
SAMEBIKE MIX10 comes with a smart APP that displays speed, mileage, battery, total mileage, single mileage, average speed, maximum speed, etc. Dig the full potential of your electric city bike by tapping on the phone!
Chargeable mobile holder
Plus, it has a chargeable mobile stand for placing your phone on the handle in a convenient way. Whether you are checking the map or the condition of your MIX10, head down, and you will find the answer. And don't worry about draining your phone battery – this mobile holder supports your phone in both physical and chemical ways!
7-speed rear derailleurs
When talking about cool cyclists, you must be impressed by their mastery of the rear derailleurs. A cool electric city bike should offer this chance for you to show your cycling skills, just like what SAMEBIKE MIX10 does. It is equipped with seven-speed rear derailleurs to allow you full control of the electric city bike with easy adjustment on the derailleur controller.
SHIMANO silence freewheels
A squeaky electric bike freewheel will not only make you embarrass but also harm your ears. To solve this problem, SAMEBIKE MIX10 has installed SHIMANO silence freewheels, returning back your peaceful riding experience. Now you can enjoy the lovely sound from the surrounding environment!
Quick assemble & disassemble
Quick assemble and disassemble refers to the battery. If your electric city bike has a fixed battery, that means you have to find somewhere near a charging port to charge your electric bike. If the battery allows assembling and dissembling but needs cumbersome steps to do these, that means you may sweat a lot on them and consume much time, losing your elegance. These problems won't show on the SAMEBIKE MIX10's battery because it can be quickly assembled & dissembled with simply a press of a button. How classy it is!
Super driving force
Speed is also a factor of a cool electric city bike. SAMEBIKE MIX10 has 350W electric bike motors and a 18650 lithium-ion battery, bringing surging power. The motor is compact but with large torque; combining these features with 480WH electric cells, SAMEBIKE MIX10 is capable of conquering different riding scenarios. Whatever steep slopes or gravel paths, MIX10 can handle them all!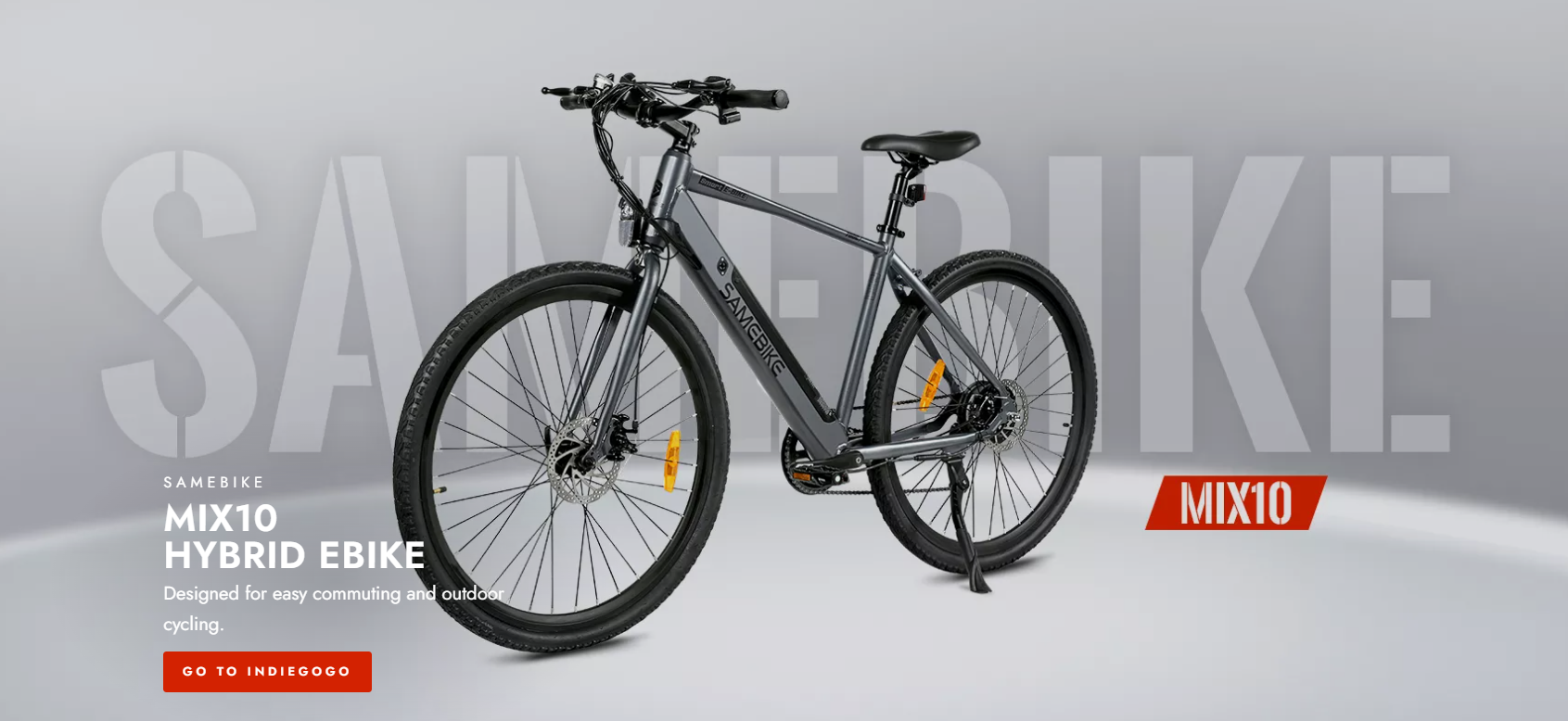 Wrapping Up
That's all for a cool electric bicycle: color, light, APP, charger, derailleurs, battery, and speed. An eye-attracting electric bike will bring you attention and compliments, adding joy to your commute routine. If you like these ingenious designs from SAMEBIKE MIX10, support it on the electric bike crowdfunding page!
Comment