Unleashing the Thrill of Off-Road Adventures with Full Suspension Fat Tire E-bikes
Mar 29,2023 | SAMEBIKE
Step into the world of full suspension fat tire e-bikes and experience the exhilaration of off-road exploration like never before. With their unique design and powerful features, these bikes are redefining the way we conquer challenging terrains. In this article, we will delve into the extraordinary capabilities and undeniable appeal of full-suspension fat tire e-bikes, allowing you to discover the thrill of off-road adventures that await you.
Embarking on Off-Road Adventures:
When it comes to off-road cycling, full-suspension fat tire e-bikes are the ultimate companions. These bikes are equipped with advanced suspension systems, boasting both front and rear suspension, that absorb the impact of rugged terrains. Whether you're tackling rocky trails, steep ascents, or navigating through muddy paths, the full suspension ensures a smooth and controlled ride, minimizing discomfort and maximizing confidence.
The Power of Fat Tires:
Fat tires are a distinguishing feature of full-suspension e-bikes, providing unparalleled traction and stability on various surfaces. With their wider profile and increased volume, these tires offer exceptional grip and flotation, allowing riders to conquer terrains that would otherwise be impassable. From sandy beaches to snowy trails, fat tires provide a secure and thrilling ride, ensuring you never compromise on your off-road explorations.
Unveiling Remarkable Models:
Let's explore the outstanding capabilities of one popular model that exemplifies the full suspension fat tire e-bike experience: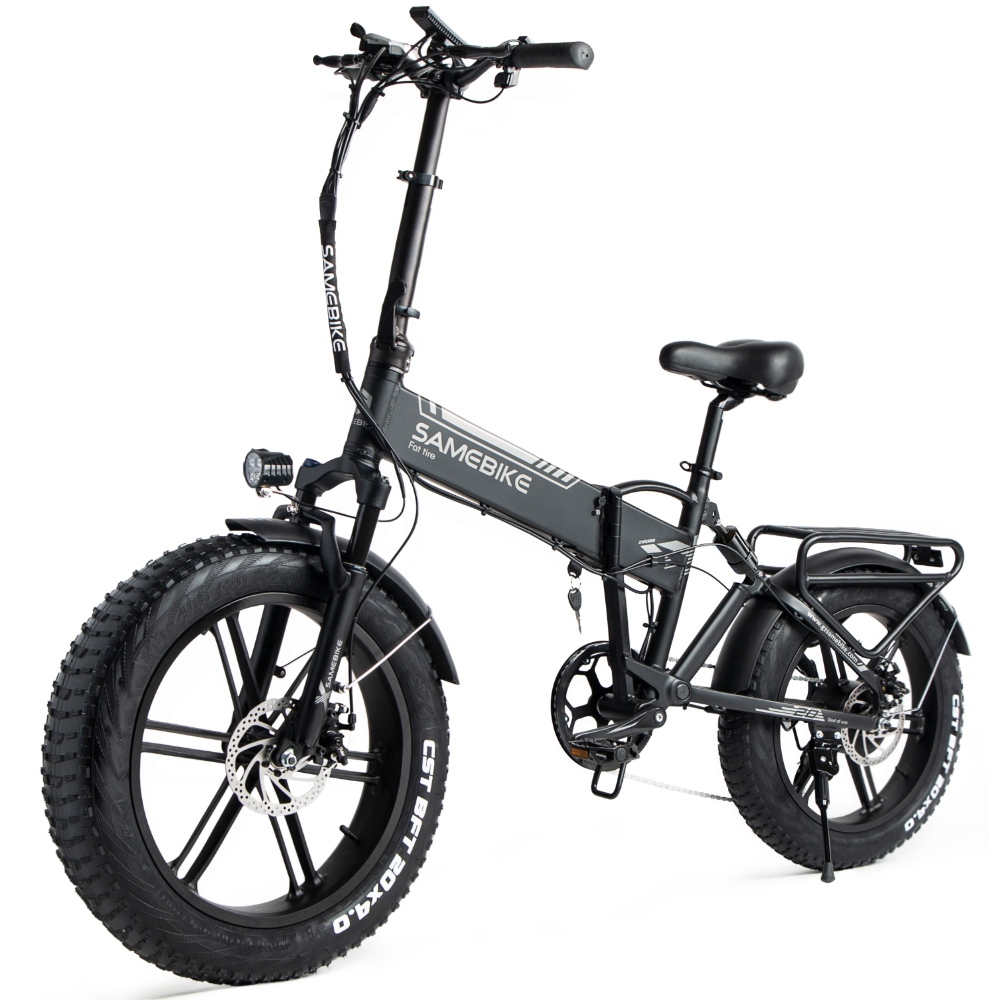 Introducing the SAMEBIKE XWLX09 750W Full Suspension Fat Tire E-bike:
This remarkable e-bike is designed to elevate your off-road adventures to new heights. Here are its key specifications and features:
Frame: Crafted from lightweight and durable aluminum alloy, the 20" full suspension foldable mountain frame ensures strength and maneuverability.
Suspension: The ED titanium suspension fork with a lock and 750 pounds spiral ED seal shock absorbers provide optimal cushioning and stability on rough terrains.
Brakes: Equipped with 160mm mechanical disc brakes, the bike ensures reliable and responsive stopping power, enhancing safety during descents.
Motor and Battery: With a high-speed and high-power 750W fat tire motor and a 48V/10Ah lithium-ion battery, this e-bike delivers ample power and range for your off-road adventures.
Control and Convenience: The LCD middle meter with USB allows you to monitor your speed and battery life while conveniently charging your devices.
Fat Tires and Rim: The 20"*4.0" CTS fat tires provide exceptional traction and flotation, while the magnesium-aluminum alloy super-light 12-knife snow fat rim ensures durability and agility.
Additional Features: The steel front and rear wide fat mud plate protect the bike from mud and debris, while the adjustable handlebar and seat tube allow riders of all heights to find their perfect riding position.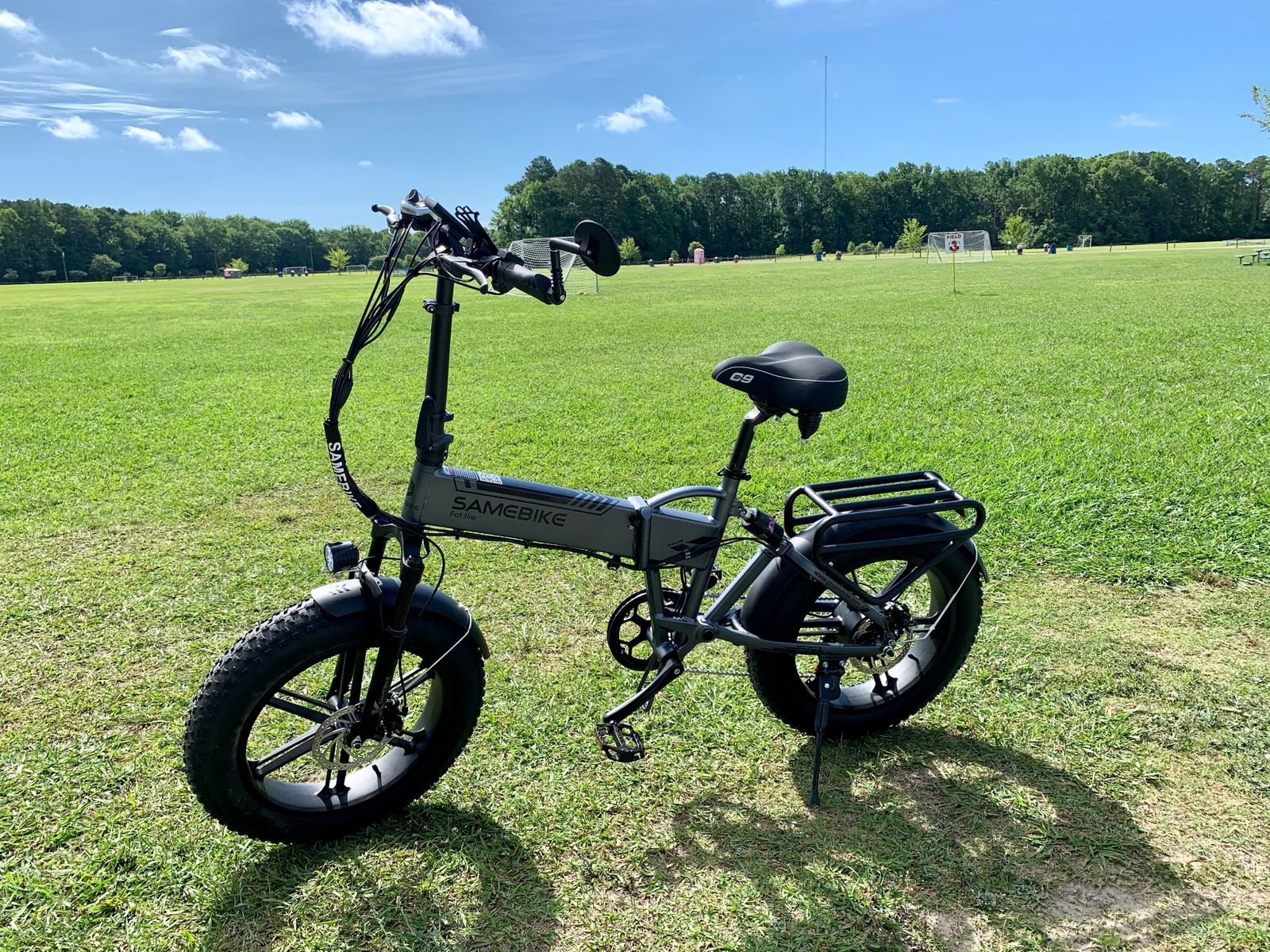 Full suspension fat tire e-bikes offer a gateway to unparalleled off-road adventures. With their advanced suspension systems, robust fat tires, and powerful motors, these bikes empower riders to conquer any terrain with confidence and ease. SAMEBIKE, a trusted brand in the industry, provides exceptional models that combine performance, durability, and style. So, embrace the call of the wild, and let a full suspension fat tire e-bike take you on thrilling off-road journeys, unlocking a world of excitement and exploration that will leave you yearning for more. Get ready to unleash the thrill of off-road adventures and create memories that will last a lifetime.
Comment