Unleash the Joy of Spring Travel with the 20LVXD30-II Electric Bike
Mar 06,2023 | SAMEBIKE
Spring is a season of renewal and rejuvenation, making it the perfect time to embark on exciting travel adventures. Imagine the warm sun, gentle breeze, and the freedom to explore beautiful landscapes. Consider embracing electric bikes' convenience and eco-friendly nature to make the most of your spring travel experience. In this article, we'll dive into the wonders of spring travel and introduce the SAMEBIKE 20LVXD30-II Electric Bike, a versatile companion for your springtime explorations.
As nature awakens from its winter hibernation, spring provides numerous opportunities to connect with nature. It's the time of year when vivid colors paint the landscape, fragrant flowers blossom, and birds sing in the air. Traveling in the spring allows us to experience and be immersed in these magnificent times. Spring provides a wonderful backdrop for your activities, whether riding along picturesque seaside paths, venturing through verdant woodlands, or finding attractive countryside towns. Enjoy the spirit of spring travel by reveling in nature's splendor and indulging in the sense of freedom and discovery.
The SAMEBIKE 20LVXD30-II Electric Bike is a game-changer in the world of electric bikes. With its exceptional features and performance, this e-bike offers an unparalleled riding experience for spring travel enthusiasts.
Powered by a robust 350W motor and a 48V lithium battery, the 20LVXD30-II provides a powerful and efficient ride. The motor seamlessly integrates with your pedaling, offering just the right amount of assistance to conquer hills and tackle challenging terrains. Whether you're exploring scenic routes or commuting to work, this electric bike ensures a smooth and enjoyable ride every time.
Equipped with a reliable lithium battery, the 20LVXD30-II offers an impressive range, allowing you to cover long distances without worrying about running out of power. Cruise through picturesque landscapes, visit new destinations and embrace the freedom of travel with this versatile e-bike.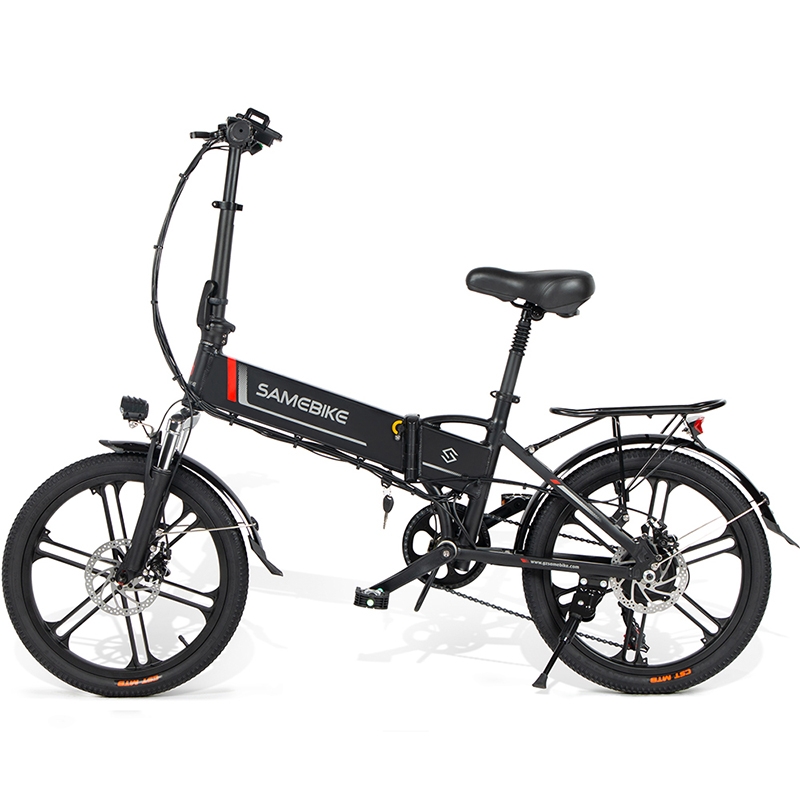 The SAMEBIKE 20LVXD30-II is also designed to enhance your spring travel experience. Its lightweight and foldable aluminum alloy frame makes it easy to transport and store, allowing you to take it on any adventure. Whether you're embarking on a weekend getaway or exploring a new city, this compact electric bike is your perfect companion. The adjustable seat height and suspension fork ensure comfort on various terrains, providing a smooth and enjoyable ride. With the LCD meter, you can easily monitor your speed; distance traveled, and battery life, allowing you to make the most of your springtime journeys.
By opting for an electric bike for your spring vacation, you help reduce carbon emissions while maintaining the natural environment's pristine beauty. Electric bikes are a low-impact, energy-efficient way of transportation that allows you to explore without leaving a carbon footprint. Enjoy the pleasures of spring travel while being a responsible traveler who promotes a greener future for future generations.
Spring vacations provide a welcome break from daily routines, allowing you to reconnect with nature and create memorable memories. Including the SAMEBIKE 20LVXD30-II Electric Bike in your spring activities opens up new possibilities by combining convenience, sustainability, and the pure joy of exploration. Embrace the spirit of spring by embarking on exciting trips on your trusty electric bike. Feel the freedom of the open road, the fragrance of blooming flowers, and the peace of natural settings. Traveling in the spring with the SAMEBIKE 20LVXD30-II is an invitation to immerse yourself in the beauty of the season and create treasured memories that will last a lifetime. Let the electric bike be your ticket to adventure as you unleash the joy of spring travel.
Comment